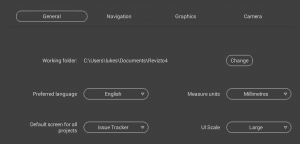 In the latest Revizto update (version 4.6.3, build 41736) you are able to change the UI scale in the General settings. This is very useful for 4K screen resolutions:
You can also set the Default Launch Screen as shown above.
The ability to update existing viewpoints is also present. You navigate to a Viewpoint, then as you move away from it a update icon will appear next to the viewpoint name. Just click that icon to update the Viewpoint. The video below shows this in action:
The post
Revizto Update Viewpoints and new UI Settings in Latest Update
appeared first on
What Revit Wants
.
Click here to view the entire blog post.