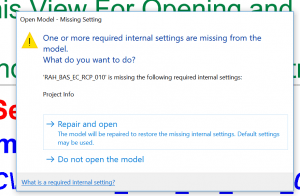 You may have experienced this error when upgrading a file to Revit 2018:
One or more required internal settings are missing from the model. What do you want to do?
Autodesk Support has stated that
"In R 2018 we added a "feature" that catches issues like this and repair the model for you, instead of causing problem down the line."
This particular dialog may not be handled by automatic upgrading tools. The resolution of the problem is to open the file manually, and simply press "Repair and open". You should get a success message like below:
I assume there are other things that this Revit 2018 feature looks for and tries to fix. As Project Info includes a few different things in Revit, my guess for the above error is that it appears that it will set project Location to Default? Or perhaps it reinstates a deleted Project Base Point or Survey Point.
Either way, data and model validation is a good thing. Thanks Revit 2018
The post
Revit 2018 New Feature and "One or more required internal settings are missing"
appeared first on
What Revit Wants
.
Click here to view the entire blog post.