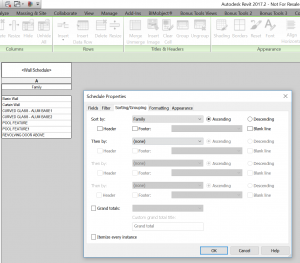 Curtain Walls in Revit are strictly a
Family
of the
Walls
Category. Then you have Types for each type of Curtain Wall. What if you want to select all Curtain Walls at once? You can't multi-select types in the Project Browser to do this, but…
You can make a suitable Schedule to do it. Here's how:
Make a new Wall Schedule
Only add the Family data field
In Sorting / Grouping tab, Sort by: Family and untick 'Itemize every instance'
Now, in the schedule, click inside the Curtain Wall cell, and
Use Highlight in Model to select them all
You could then use Save Selection, or Temporarily Isolate Elements in View, depending on what you want to do next.
The post
How To Select All Types of All Curtain Walls at Once in Revit
appeared first on
What Revit Wants
.
Click here to view the entire blog post.