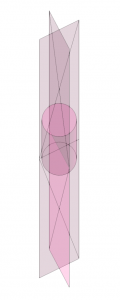 The form creation engine in Revit does not really know about flat vertical zero thickness surfaces. However, with DirectShape, we can make almost any type of mesh geometry. One interesting idea coming out of the RTC ANZ event this year was creating these flat surfaces to display grids in 3D. This lets us do things like dimension easily in Navisworks or Revizto. I wanted to use them to add some flat datum lines to a construction setout point family.
Here is the Dynamo Script that I used (Download
Make Flat DirectShape From Line)
:
Basically, you select a Detail (Symbolic) Line and run the script. In action:
Playing around with the lines a bit, I built this geometry for use in the project:
The post
Creating Flat Surfaces in Revit to Make 3D Grids or Datums
appeared first on
What Revit Wants
.
Click here to view the entire blog post.