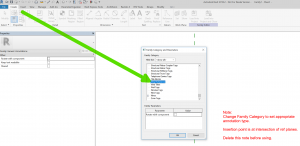 Sometimes, What Revit Wants is a specific Annotation Tag family of a unique Family Category, like View Reference. When you go to create a new Family, you probably won't find a Family Template for 'Metric View Reference' or similar. You need to create a family with the Generic Annotation template, and then change the Family Category.
Here's how:
Create a new Family -> Generic Annotation template
Change the Family Category to the desired Category (like View Reference)
Save the family, then go ahead and add the Text, Labels and Lines as desired. Load into your project and you can then select it in the relevant dialog box:
Keep in mind that you can use a View Reference to "Go to View", such as for an adjoining Floor Plan:
The post
Creating a Revit Tag Family without a Specific Family Template
appeared first on
What Revit Wants
.
Click here to view the entire blog post.