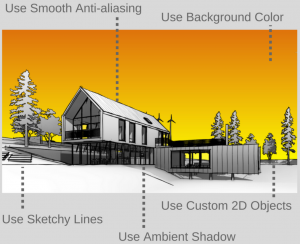 Edwin Prakoso over at
CAD Notes
recently posted a few tips on how to make your Revit presentation views look more engaging and interesting. Here are my top 4 from his top 10:
Use ambient shadow. It gives more impact … and makes sure your view doesn't look flat.
Use sketchy lines. Hand drawing images often look very artistic and interesting. You can achieve the similar effect by using this option.
Enable Smooth Anti-aliasing. It gives great impact when you use sketchy lines option.
Use background color. You can play with the background color to make it stand out.
One that I would add would be to add a little bit of
Transparency
. See some example settings below:
Image by What Revit Wants
Image from CAD Notes
Source post: Do you have any tips to make your Revit views look better? Feel free to comment here.
The post
Your Revit Views Don't Have to Look Flat and Boring
appeared first on
What Revit Wants
.
Click here to view the entire blog post.